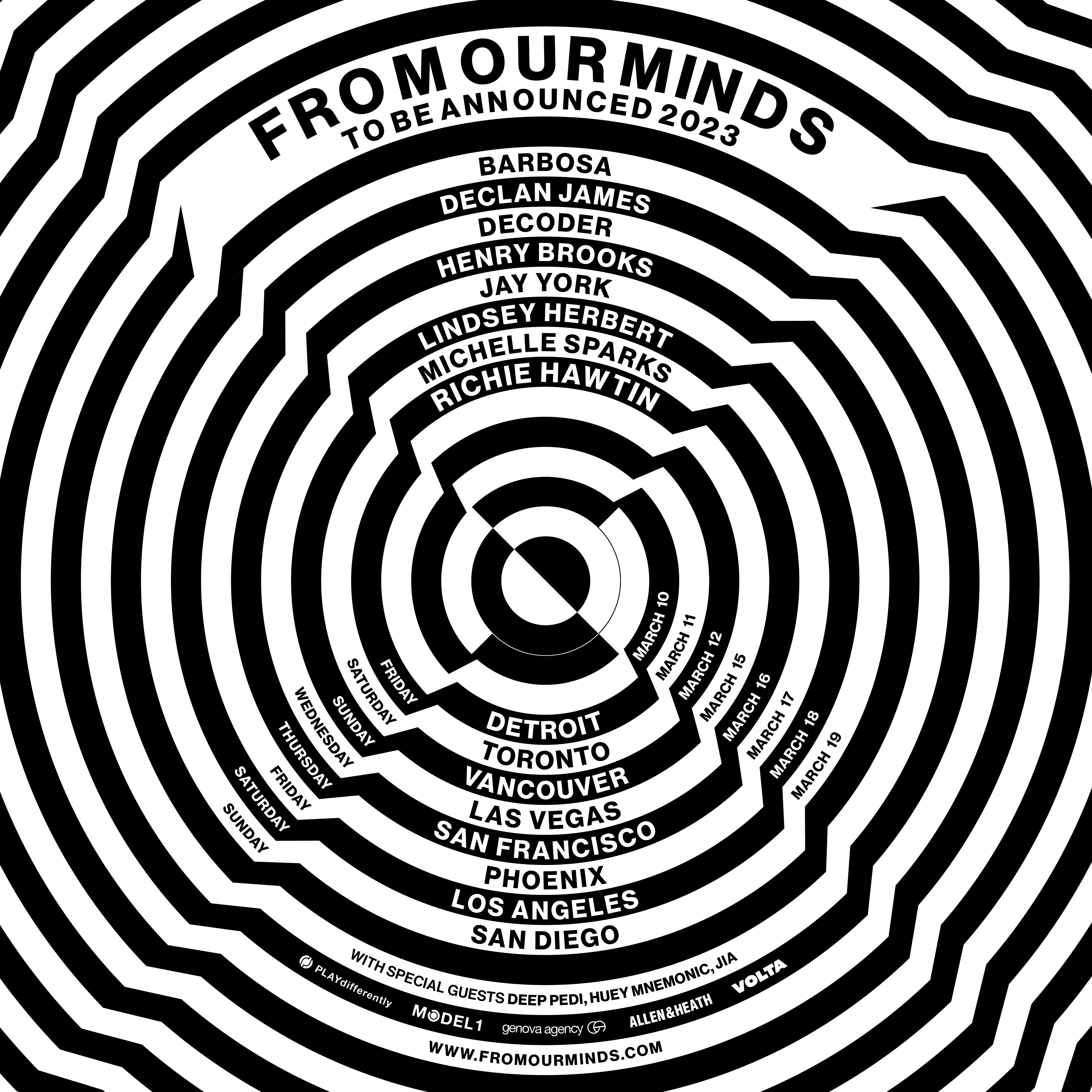 PLAYdifferently is proud to be a collaborator on the 'From Our Minds – To Be Announced 2023' Tour!
"Since starting my first label +8 in 1990, it's always been important for me to help nurture, develop and promote new like-minded artists. Today with the ever-growing popularity and globalisation of Techno, it's critical to collaborate with the next generation, learning from one another and pushing forward together with open-minded curiosity. On March 10th, in partnership with The Genova Agency, we will kick off the 'From Our Minds – To Be Announced 2023' Tour in the birthplace of techno, Detroit, followed by a series of North American dates, hosted at warehouse locations TBA." – Richie Hawtin
Tour Dates – Venues 'To Be Announced'
Friday March 10 – Detroit, MI
Saturday March 11 – Toronto, ON, Canada
Sunday March 12 – Vancouver, BC, Canada
Wednesday March 15 – Las Vegas, NV
Thursday March 16 – San Francisco, CA
Friday March 17 – Phoenix, AZ
Saturday March 18 – Los Angeles, CA
Sunday March 19 – San Diego, CA
ARTISTS (A-Z)
Barbosa
Declan James
Decoder
Henry Brooks
Jay York
Lindsey Herbert
Michelle Sparks
Richie Hawtin
+ Special Guests
Deep Pedi
Huey Mnemonic
Jia
PROMOTERS
Paxahau
The Apollo Inc.
Vantek Group
Elation Las Vegas
It's A Journey Events
Circuit
6 Am  Group, Work LA Presents, Synthetik Minds
Music Is 4 Lovers
COLLABORATORS
PLAYdifferently
The Genova Agency
Allen & Heath
Experience Volta
Head to fromourminds.com for info & tickets.