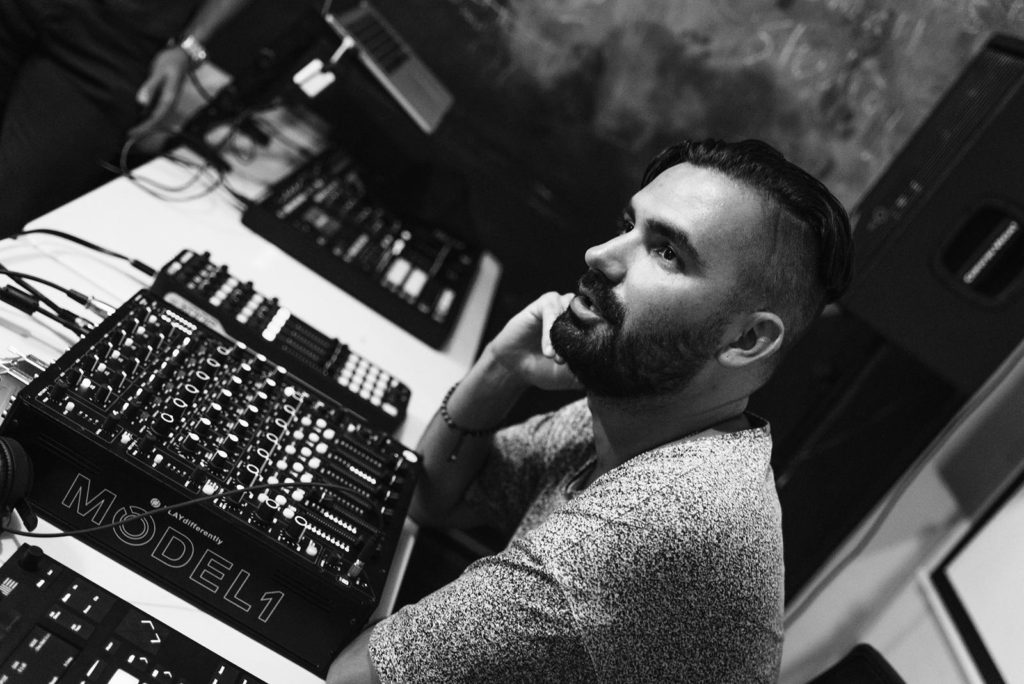 "I can't imagine myself not playing on MODEL 1. It feels like home."
A lifelong music lover, Alex Sanchez, more commonly known as ALX, fuels his audience by combining deep and energetic styles of music from across the globe. Surrounded by the vibrant flavours of his hometown Miami, ALX's one-of-a-kind concoction of deep, rumbling techno mixed with enticing, high energy grooves wraps his audience in vibrations from dusk to dawn. His reputation for distinctive beats and style has earned him a seat as one of today's most promising techno exports.
ALX's contribution to the scene exceeds the title of DJ-Producer. 2014 saw ALX expand into a new territory of the industry, with the launch of his very own record label and party brand Descend. Since its materialization, Descend Records has enjoyed label showcases at The BPM Festival (Mexico) where it was named "One of the Top 5 Highlights of BPM" by Dancing Astronaut, Electric Festival (Aruba), Baum (Bogota), Teatro Amador (Panama) and Heart and Club Space (Miami).
When it comes to music," it's all about the crowd and the vibe" says ALX. "Everything I do in music, every new track, every baseline, every beat, is done for the experience. Nothing gets me more pumped than seeing people captured by the sound."
Alx has taken it upon himself to inform and educate others on the importance of high quality sound, giving workshops before his gigs to young and eager fans. Fresh off the flight from his Costa Rican tour we caught up with him to hear about his experiences with MODEL 1.
PD: How was your event at Club Vertigo?
Alx: "The event was amazing, first time I was at this venue and I was truly blown away. Not only is the decor, staff, and ambience very conducive to a good techno party, the sound system was truly amazing. It's a fully custom design by Gary Stewart! Everything from the booth to the dance floor, to the VIP area had a full encompassing sound."
PD: In addition to performing you also gave a master class on how you use MODEL 1 to perform. How did that go? 
Alx: "There's so much undiscovered talent there, and this was the first time that MODEL 1 was ever seen by anyone in Costa Rica, that I happily agreed to give a master class focusing on how I perform. Sharing with the young talent there this new concept of mixing with filters, and how this allows one to become more creative when layering sounds. As an artist I think it's important to really focus on quality and detail with your work. Being able to share the high quality of MODEL 1 and focus the class on this was very important to me. Everyone was really interested in the filter mixing controls and how the whole concept of mixing can be looked at another way when compared to a mixer that only have EQs. It was a great experience. "
PD: What was your first experience with MODEL 1?
Alx: "I was first introduced to MODEL 1 by PLAYdifferently's product specialist Alex Zinn, who I knew by his DJ name, SpinnZinn. We'd known each other through being residents at Space Miami. He gave me a call and told me he had something to show me that would blow me away. A month later I was able to perform on MODEL 1 along side Cassy at Club Space Miami. I knew right then I had to get one.
I was completely amazed — its functionality, its sound, and the different possibilities are unbelievable. I had been searching for something to enhance my performances and knew within the first 10 seconds that MODEL 1 was it."
PD: How has MODEL 1 influenced your performance?
Alx: "Yes, it's definitely changed the way I play! The low pass/high pass filters offer for super smooth clean cuts, without resonance or distortion, allowing for super smooth transitions. It really feels like the whole night sounds like one extended soundtrack, like the records belong together. I'm now able layer more sounds and loops together, easily selecting the elements from each track with the channel filters allowing me to sculpt the sound exactly how I want it. I'm also a big an of the booth EQ, allowing me to quickly tune the booth sound to suit my needs without having to constantly hassle the venue's engineer. "
PD: What is your favourite feature of MODEL 1?
Alx: "My favourite feature would have to be the low pass and high pass filters. I've really come to love this new approach at mixing much more than using EQ's. The ergonomic layout of MODEL 1 is also very well thought out, every function has a specific knob type making it easy to feel where my hands are — even when you're in a dark nightclub, you can easily feel where everything is."
PD: How does MODEL 1 feel compared to other mixers?
Alx: "It doesn't honestly. MODEL 1 has clearly been thought out from the artist's perspective, it has all these little details that can only come from years of on the road experience. It gives artists full control over the sonic texture of the music without ever loosing any quality. And while it may look rather confusing it's actually quite easy to use, offering many possibilities where no two artists will use the mixer the same way."
Find out more about Alx on Facebook