Carl Cox was amongst the first DJs to become a globally recognised celebrity. In demand on dancefloors and stopped in the street since the '90s, he's long since been lauded for his unique brand of technical wizardry, infectious passion for the music and for the physicality of his performance style.
When PLAYdifferently saw Carl's video of himself outside his sun-drenched Ibiza villa, testing out MODEL 1 for the first time, we were humbled by his characteristic exuberance and immediate grasp of the mixer's filtering system. Within a few weeks Carl had re-designed his setup with MODEL 1 at its centre, deploying it to full effect for his final residency at Space.
This summer, PLAYdifferently jumped at the opportunity to meet Carl in Ibiza, get a look under the hood of his setup, and discuss his performance style in depth. Filmed at Hangar 8289 studios in Ibiza Town, Carl explained how his legendary multiple-deck setup works, his filtering techniques, use of FX and how he views MODEL 1 as an instrument.
Watch the video below:
"Making a video with the MODEL 1 was a lot of fun. To be able to really show what this mixer can do from, my point of view, was a pleasure to show. Now that I have been working with the MODEL 1 mixer for over a year, I feel it's a part of my equipment family. It's like having a favourite car I drive every day, the power and energy that I get from using this mixer is like no other experience that I get from using anything else, it feels like I have one arm tied behind my back if I do not get to use it. Being able to pin point the frequencies through the filter channels is the very key to this mixer. I have never used anything like it, to be able to make your mixes, when you play live, sound even bigger. It makes me want to give my audience the very best in audible sound."

See below for a full description of Carl's DJ setup: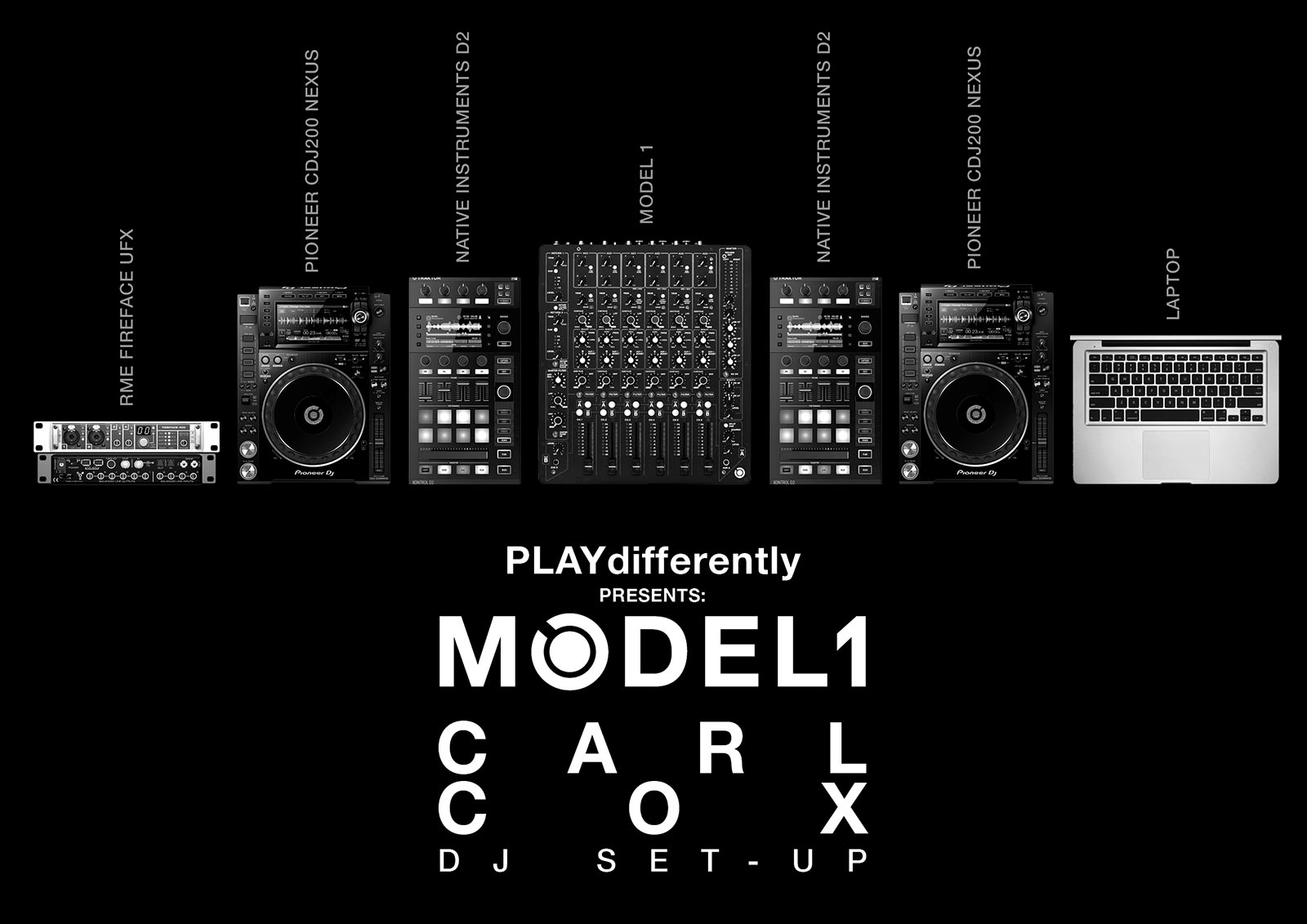 PLAYdifferently MODEL 1, Pioneer CDJ200 Nexus x 2, NI D2 x 2, RME Fireface Soundcard, Apple Macbook Pro, Traktor Audio 10, Funktion One PSM 318 Monitor, Wireless Mix, Ambient Mic x 2